Tossing Cash Out the Window
Time and time again, elected officials in Albany are choosing to waste taxpayer funds by mandating unnecessary labor requirements that do nothing to benefit the project or the workers on those projects and increase the amount New York taxpayer pay for construction.
Why do they do these harmful mandates?
That answer is simple and endemic in American politics. Leaders in New York want to cater to their campaign donors, who provide them with the money that gets them elected. They don't care that this labor mandate sidelines most construction workers living in New York or that they waste taxpayer dollars by making construction more expensive. Instead, they care about keeping that campaign money rolling in, and there is much of it.
"According to City & State, the BCTC donated nearly $1.9 million to Gov. Kathy Hochul's campaign last year, more than any other labor group in the state" - Which unions gave the most to Hochul? - City & State New York (cityandstateny.com)
The Carpenters Union has spent $500,000 in recent elections and plans on continuing this in future races, and every politician wants a slice of that pie. - After $500K election boost, carpenters union presses Hochul on bill on contractor disclosures (buffalonews.com)
Here's the truth: Project Labor Agreements (PLAs) inflate the cost of construction and sideline 70% of construction workers living in New York. Today we will focus on the cost impact.
While any contractor can bid on projects that have PLAs attached. Most choose not to. That's because a typical PLA mandates that 2 out of 3 or 3 out of 4 workers must come from the local union hiring hall.
Imagine owning a company and being awarded a bid for a large state project. Then having to go and tell your employees that you've trained and worked with on countless projects that some must be replaced with unknown workers from the union hall. It shouldn't matter if they're in a union or not. You shouldn't be forced to replace your employees if you are a qualified contractor, and most contractors in New York refuse to and won't bid on work with PLAs attached.
That's a problem when most New York construction workers are not part of a union. Recent data from the Bureau of Labor Statistics show that 70% of construction workers in New York chose not to be part of a union. Intentionally excluding the vast majority of workers means there are going to be fewer bids submitted. When there are fewer bids on these projects, the construction price goes up. Who pays for these increases? You do.
A study by Dr. Paul G. Carr, P.E., from Cornell University, shows what happens when the number of bidders on a project is reduced. The study examined 663 bids on 125 separate NYS Public Works Construction Projects. They concluded that the construction costs increased when the number of bidders on the project decreased. Reducing two bidders added more than 4% to the bid cost. That's the minimum amount bid costs will increase. So let's do some math on how much these PLAs will cost you, at the very least.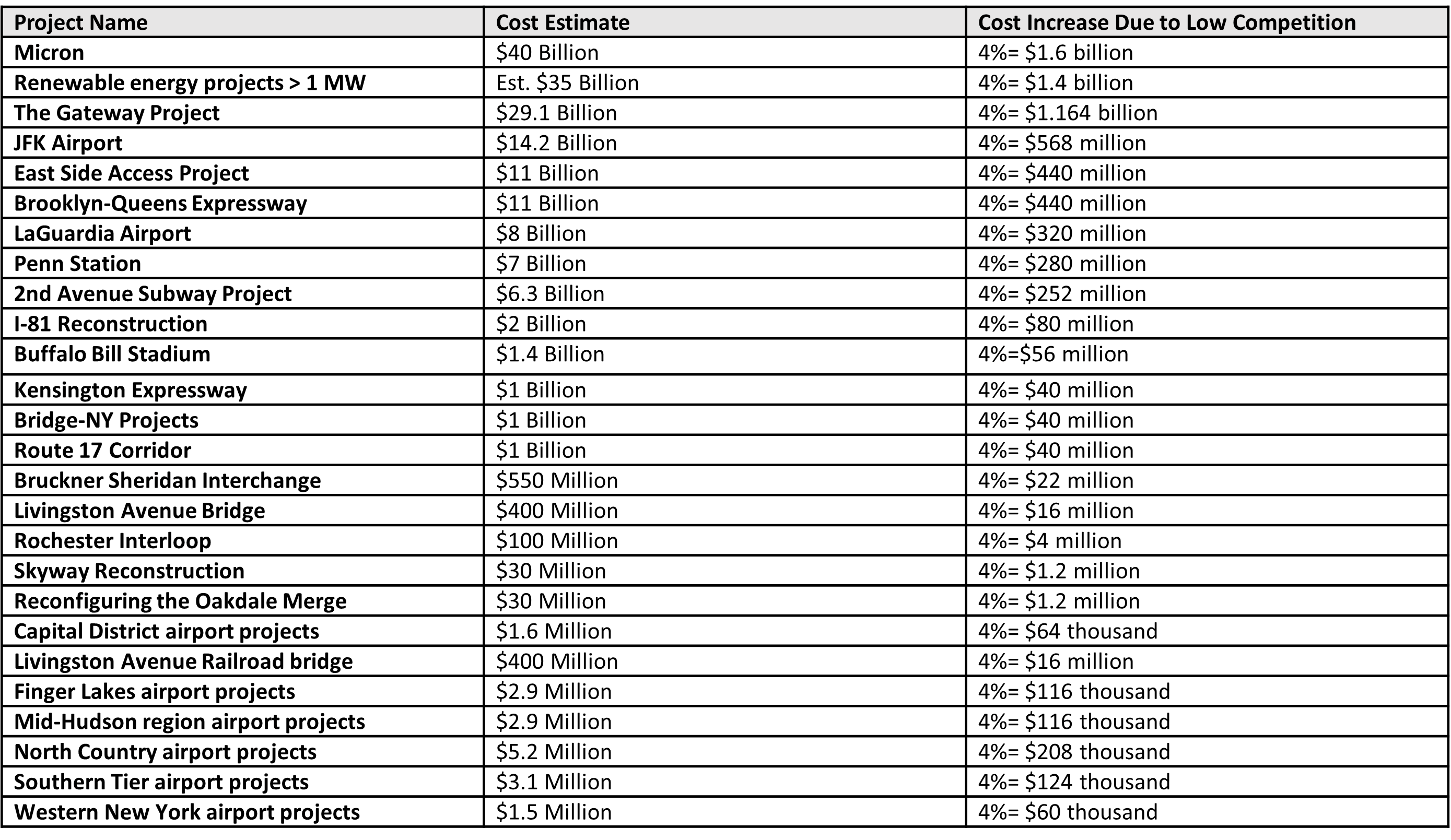 Total PLA added costs = $6,781,184,000
That's the minimum amount that the PLAs attached to these projects will cost you. The best-case scenario from PLAs on these listed projects is costing taxpayers over 6.7 billion dollars that they wouldn't have to spend absent a PLA. 
Think of all the major work that could get done across this state with an extra 6.7 billion dollars. That funding could improve our roads, make our bridges safer, fund projects to build New York's green energy future, and build the new affordable housing units our state desperately needs. 
This trend of New York State elected officials mandating PLAs to cater to their campaign donors must stop. New York needs our leaders to stop doing what's best for their campaign coffers and start doing what's best for all New Yorkers.