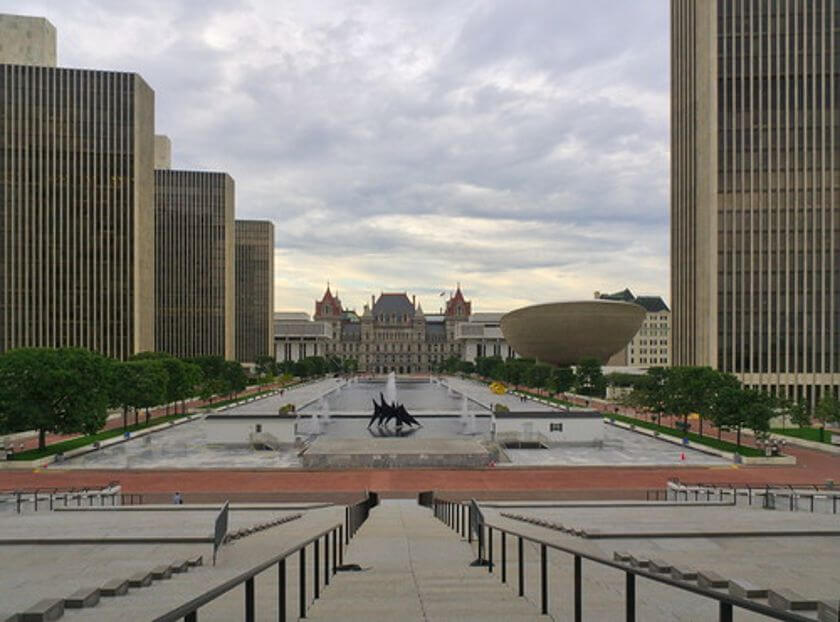 Speaking with One Voice in ENY
Often referred to as the Capital Region because it's the heart of state government, the region is also known for other key cities and attractions. The area stretches from Lake Placid to the historic Saratoga Race Course, from Schenectady deep into the Hudson Valley. The area calls itself the "epicenter of New York's Tech Valley".
The region is home to some industrial giants like GE and IBM and smaller tech growth firms. It's deep in education with schools like SUNY Albany, RPI, and Marist. It's also home to our United States Military Academy at West Point. Our 100+ members in this area continue to build and improve their communities.
Resources for Contractors and Team Members
Our regional office provides support and services ranging from our nine-trade Multiple Employer Apprenticeship Program to safety training as well as professional development. The Empire State Chapter provides craft training in the most popular trades, but our office has the ability to provide nationally recognized curriculum-based training in over 50 different trades.

ABC's Empire State Chapter has been approved by the New York State Department of Labor to provide our members
access to a state-approved, multiple employer apprenticeship program.
Our Multiple Employer Apprenticeship Program dramatically increases your ability to bid and win work.
Currently, we're offering craft training
in the following apprenticeships:
Electrician

Carpenter

Plumber

Sheet Metal Worker

Painter & Decorator

Iron Worker

Construction Craft Laborer

Drywall Taper (Finisher)

Roofer
From resources for keeping teams current on skills and certifications, to political advocacy on the municipal, state, and federal levels, ABC's Empire State Chapter and its Eastern New York Regional Leadership Committee provide the region's contractors with a single, unified voice. Our membership believes in the importance of working with other ABC members on projects and advancing open-shop construction interests in ENY area and the State. Together, we can cut the ribbon on a new era for our industry.
"In today's political and economic climate, policies are rapidly changing at the local, state, and federal levels. These policies directly impact open shop contractors and how we operate, especially in New York City. ABC's Empire State Chapter keeps its members informed of these ever-changing directives, it fights for our companies against bad policies that negatively affect us and our team, and it advocates for our needs and concerns in a state that is determined to drive us out of business."
Patrick Murphy, Chief Executive Officer
Trident Construction
"By far, the most important reason to join and support ABC's Empire State Chapter is to have and maintain a 'voice' in New York state. As small business owners, we do not have the time to keep up with all the political developments and New York City regulations that are constantly changing. ABC does that while also keeping us informed of proposed laws from our New York City council members and state legislators, many of which would be detrimental to the open shop construction industry. ABC fights against harmful legislation and/or proposes modifications to legislation by maintaining relationships with state and local representatives. As an individual contractor, most of us do not have that ability, but with ABC advocating on our behalf, our voice is heard loud and clear, from New York City to Albany."
Bill Freeswick, Chief Financial Officer
Ryder Construction
"As a self-performing General Contractor, at Swinerton we understand the true value of industry organizations, such as ABC, and their focus on skills training and workforce development, as a crucial component in meeting the future needs of craft employees to serve our construction projects. Joining ABC's Empire State Chapter marks the fifth region in the nation in which Swinerton and ABC are actively working together. This is an exciting opportunity to strengthen our relationship."
Andrew D. Pearl, Vice President & Division Manager
Swinerton
"Leeding Builders Group is committed to safety, which is why we have not only joined ABC's Empire State Chapter, but also hold a seat on its Regional Leadership Committee which is active in driving policy that makes worksites safer for all. ABC is dedicated to improving safety on all jobsites and has programs and resources to evaluate your company's current safety level and elevate it to make you one of the safest in New York City."
Mario Carone, Co-Founder & Officer-in-Charge
Leeding Builders Group
"We have all experienced the rapidly changing safety environment in NYC. Whereas ABC supports all safety changes that make our work sites safer, we also strongly believe that we should be actively
contributing to these policy changes and assisting the regulators on the scope and timing of these changes. ABC's safety committee has demonstrated leadership in this area and is actively sought out for our opinions on these matters. As an ABC member you will have firsthand access to these policy changes and will be recognized as a member of an organization that has embraced safety as a core value in your organization."
Bill Cote, Founder & Chief Executive Officer
Hudson Meridian
"ABC's Empire State Chapter serves as a forum where open shop contractors can collaborate and educate one another on a host of topics, with safety being paramount. By collaborating with other industry-leading firms on topics such as safety, industry requirements, and overall jobsite awareness, we have created a learning platform through which we train one of the safest workforces in the industry. I am proud to say ABC member job sites are as safe as any in New York City, because our workforce is among the best trained. In fact, through ABC's world class, STEP Safety Management System, members are up to 655% safer than the industry average. That is reason enough to join ABC's Empire State Chapter."
Gerald Miceli, President of Construction & Partner
LM Development Partners
"For open shop contractors in New York state, there is no voice louder, no organization more knowledgeable when it comes to policy directly affecting us and our team than ABC's Empire State Chapter. As a New York City contractor, new laws and policies are created so frequently that it's hard to keep up, let alone fight bad policy. ABC keeps KBE-NY informed and takes up the fight on our behalf and that of all members in New York City and throughout the state. If you're an open shop contractor in New York City, you need to join ABC's Empire State Chapter."
Will Telesca, PE, Senior Vice President
KBE-NY, LLC
"Not only is ABC's Empire State Chapter the leading advocate for open shop contractors in New York City and throughout the state, the Chapter is committed to helping its members be as safe as possible while improving safety for the entire industry. Through the efforts of its New York City Regional Leadership Committee and ABC's world-class, STEP safety management system, the Empire State Chapter is making jobsites in New York City safer every day. Being a member of ABC is the best investment open shop contractors can make."
Pat Kennelly, Principal and Owner
Anthony G. Ferry Inc.
"With New York City back open and back in business, now is a great time for open shop contractors to become members of ABC's Empire State Chapter. ABC offers unique exposure to the largest open shop construction managers in the City along with many leading subcontractors and vendors. The value of membership cannot be overstated."
Lance Franklin RA, Co-Chief Executive Officer
Triton Construction