Albany's Policies Inhibit Creation of Affordable Housing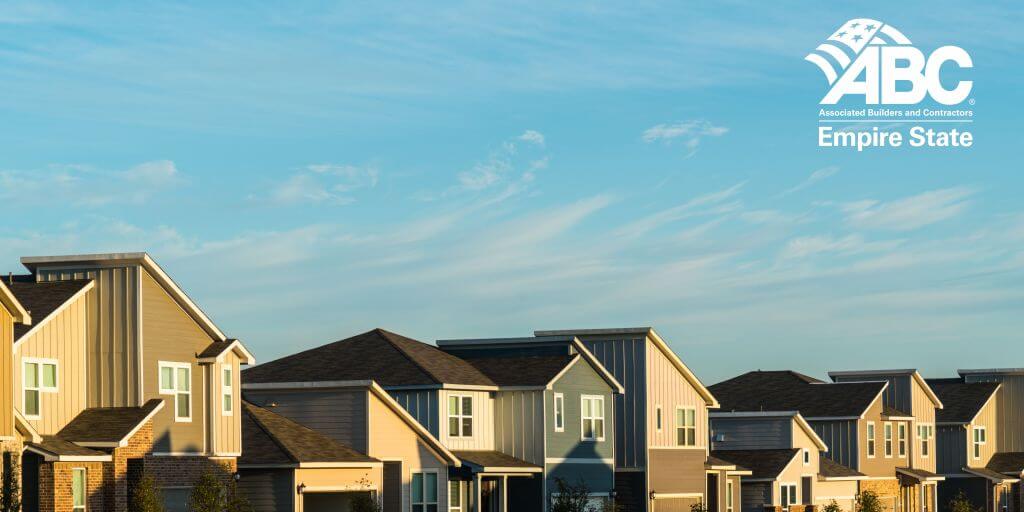 It's clear that addressing the housing crisis by building more affordable housing units in New York is a top priority for Governor Hohcul and leaders in the legislature. ABC and our members applaud this idea, but there are some obstacles standing in the way of achieving this goal.
Leaders in Albany acknowledge that zoning is a major issue when it comes to building affordable housing. That is correct. However, what they fail to mention is that many of their own policies block the creation of new, affordable housing units. Their policies add to the cost of these projects, which will result in fewer affordable units being built.
The truth is leadership in Albany has made construction too expensive in New York. They've supported legislation that applies prevailing wage to projects that had not traditionally been subject to it, mandated Project Labor Agreements on hundreds of billions of dollars worth of projects, and approved other costly policies.  Without a doubt, our leaders in Albany will do the same with affordable housing projects. While Gov. Hochul and leadership in both houses will argue the importance of these policies, the fact is that they restrict the creation of housing because they increase costs.
Look at this study by the RAND Corporation on the effects of PLAs on the production of affordable housing in California. The RAND Corporation is a non-profit, non-partisan research organization that develops solutions to public policy challenges to help make communities throughout the world safer, healthier, and more prosperous.
Their study looked at Proposition HHH, passed by the Los Angeles City Council in 2016, as an initiative to build more affordable housing units in the city. Through HHH, they invested $1.2 billion to create 10,000 new affordable housing units. With all funding committed in 2021, only approximately 7,300 units of housing were in the pipeline. The failure to meet the original target of 10,000 new units was attributed by experts to higher-than-expected construction costs. RAND took a deep dive to understand what caused these higher-than-expected costs and found they can be directly attributed to Project Labor Agreement (PLA) and prevailing wage requirements.
Here are two of the major takeaways from the report:
The report concluded that PLAs added $43,000 to the cost of each housing unit, a 14.5 percent increase in construction costs that resulted in nearly 1,000 units going unbuilt.
An important additional contribution of this study is the inclusion of other research that estimated the association between prevailing wage laws and construction costs on California's affordable housing production. This recent Terner Center reports (Raetz et al., 2020; Reid, 2020) finds that Prevailing wage laws increase construction costs by between 11 and 16 percent.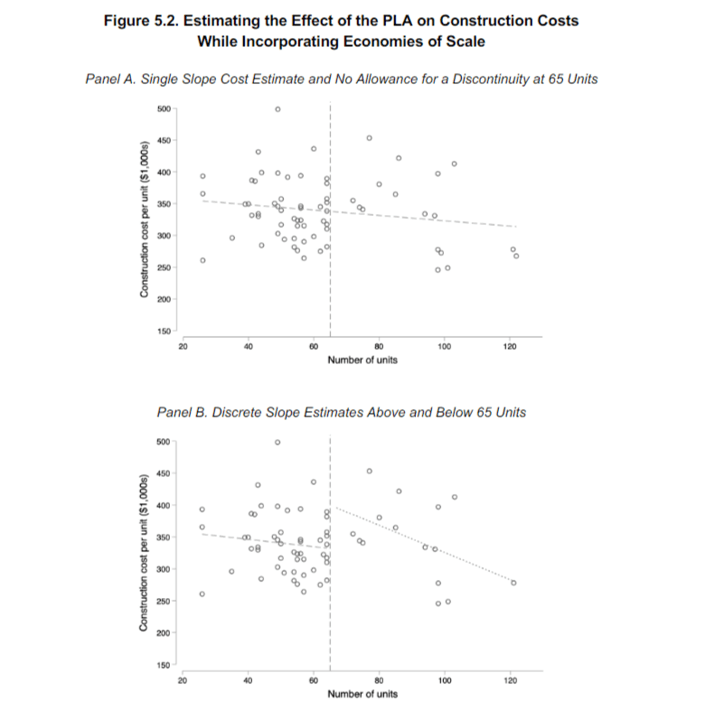 From these two points, you can draw the following conclusions:
If California lost about 1,000 units on $1.2 billion due to a PLA, then New York will lose approximately 20,800 units on the $25 billion that has been allocated to affordable housing.
With just attaching a PLA to these projects, over 20,000 units stand to go unbuilt. Piling on a Prevailing Wage mandate would amplify these problems, and you could see an additional loss of 20 percent (the difference between market rate pay and the PW), more or 160,000 units going unbuilt. We can safely draw the conclusion that with both PLAs and PW, we're looking at a loss of almost 200,000 units of affordable housing.
New York cannot make the same mistake as California and mandate Project Labor Agreements and Prevailing Wages for the construction of affordable housing. If so, New York will not reach the important goal of 800,000 new units, and individuals who so desperately need housing will be left out in the cold. Without these mandates, New York has more than enough qualified union and non-union contractors to build these projects.
So who and what is truly blocking housing? The governor, Senate Majority Leader Stewart-Cousins, and Speaker Heastie have the decision to make. Do they really want to build as much affordable housing as possible to address the housing crisis? Or do they want to continue to cater to their union donors at the expense of working-class New Yorkers? The choice is theirs. All of New York is watching.