39 States Have Lower Construction Unemployment Rates than New York In December 2022
For Immediate Release
PERMALINK
Contact: Tanner Schmidt, ABC Empire State Chapter | (585) 730-1814 | tschmidt@abcnys.org
39 States Had Lower Construction Unemployment Rates than New York In December 2022
New York, Feb. 7—The not seasonally adjusted (NSA) construction unemployment rate in New York dropped 1.7% in December 2022 from a year ago, down from 7.1 percent to 5.4 percent according to a state-by-state analysis of U.S. Bureau of Labor Statistics data released today by Associated Builders and Contractors. The average NSA construction unemployment rate in the US. was 4.4 percent in December 2022. Compared to New York, thirty-nine states had lower unemployment rates in December 2022, and ten had higher unemployment rates in the construction industry.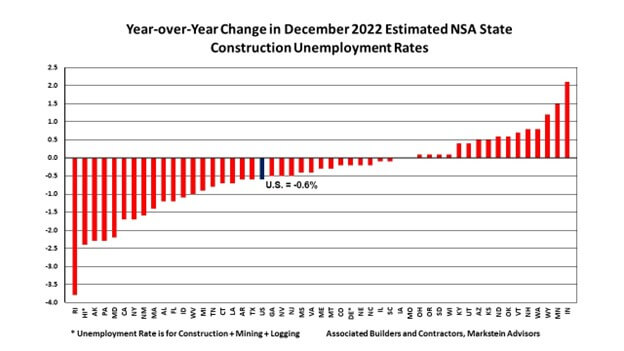 "Nonresidential, open shop construction employers fully expect public investment to rise over this year and next as more state and local projects tap into federal funds from the Infrastructure Investment and Jobs Act and move from the planning stage to the execution stage," said Brian Sampson, President of the Empire State Chapter. "While that is good news, the government in New York must work harder to create an environment where private development chooses to invest in the state rather than in other regions of the country that will provide them a better return on their investment. We cannot continue to make construction so expensive in New York."
National NSA payroll construction employment was 242,000 higher than in December 2021. From March through December 2022, seasonally adjusted construction employment was above its February 2020 pre-pandemic peak of 7,624,000, except for a slight dip in April. As of December, it was 153,000 greater than its pre-pandemic peak.
Click here to view graphs of overall unemployment rates (Tab 1) and construction unemployment rates (Tab 2) showing the impact of the pandemic, including a graphing tool that creates a chart for multiple states.
To better understand the basis for calculating unemployment rates and what they measure, check out the Background on State Construction Unemployment Rates.